Who Are UiPath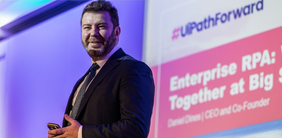 Daniel Dines UiPath CEO



2018 - UiPath comleted a $225 million Series C financing round
at a valuation of $3 billion.

Built for both business and IT, UiPath is the leading platform
for Enterprise Robotic Process Automation (RPA).

More than 1,800 enterprise customers and government agencies
use UiPath's Enterprise RPA Platform to rapidly deploy software
robots that perfectly emulate and
execute repetitive processes, boosting business productivity,
ensuring compliance and enhancing customer
experience across back-office and front-office operations.

UiPath has been created in 2015 on the foundation of
the 10-year old Romanian software outsourcing company DeskOver,
started by Daniel Dines and Marius Tirca in Bucharest.
They began orienting resources into training and orchestrating
software robots back in 2012, and one year later the company
initiated its first RPA journeys, with Sutherland and Dell.



Visit UiPath

Message Me: Tony Nudd - UiPath Business Automation Robotics Specialist